Wednesday December 9- Morning Weather – The Bill and Kali Show Schedule and Latest Shows
NWS – Weather for the Chicago and Michiana Area
---
Forecast
Today through Thursday looks good with highs in the upper 40s-lower 50s and sunny, upto Friday. Friday 50% chance of precipitation with a high of 45. Saturday rain likely turning into a wintery mix in the midafternoon with a high of 44. Sunday a chance of now with a high of 37.
Today Sunny, with a high near 48. West wind 5 to 10 mph.
Tonight Mostly clear, with a low around 30. West northwest wind around 5 mph becoming calm in the evening.
Thursday Sunny, with a high near 50. South wind 5 to 10 mph, with gusts as high as 15 mph.
Thursday Night Mostly cloudy, with a low around 35. South wind around 5 mph becoming northwest after midnight. Winds could gust as high as 15 mph.
Friday A 50 percent chance of rain after noon. Cloudy, with a high near 45. North northwest wind 5 to 10 mph becoming northeast in the morning. Winds could gust as high as 15 mph.
Friday Night Rain. Low around 38. Chance of precipitation is 80%.
Saturday Rain before 3pm, then rain likely, possibly mixed with snow. High near 44. Chance of precipitation is 80%.
Saturday Night A chance of rain before 7pm, then a chance of rain and snow between 7pm and 2am, then a slight chance of snow after 2am. Mostly cloudy, with a low around 31.
Sunday A slight chance of snow before noon. Partly sunny, with a high near 37.
Sunday Night Partly cloudy, with a low around 25.
Monday Mostly sunny, with a high near 36.
Monday Night Mostly cloudy, with a low around 24.
Tuesday Mostly cloudy, with a high near 36.
---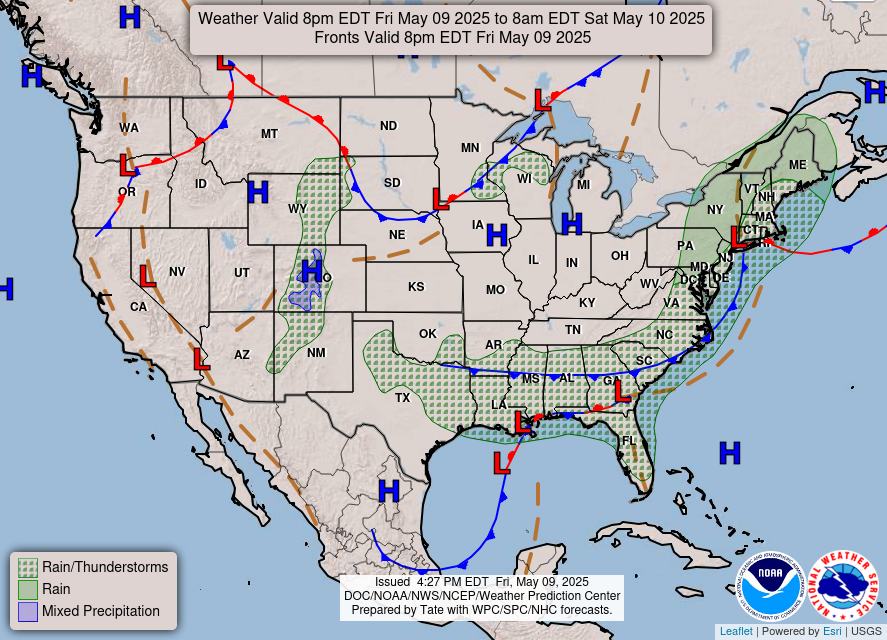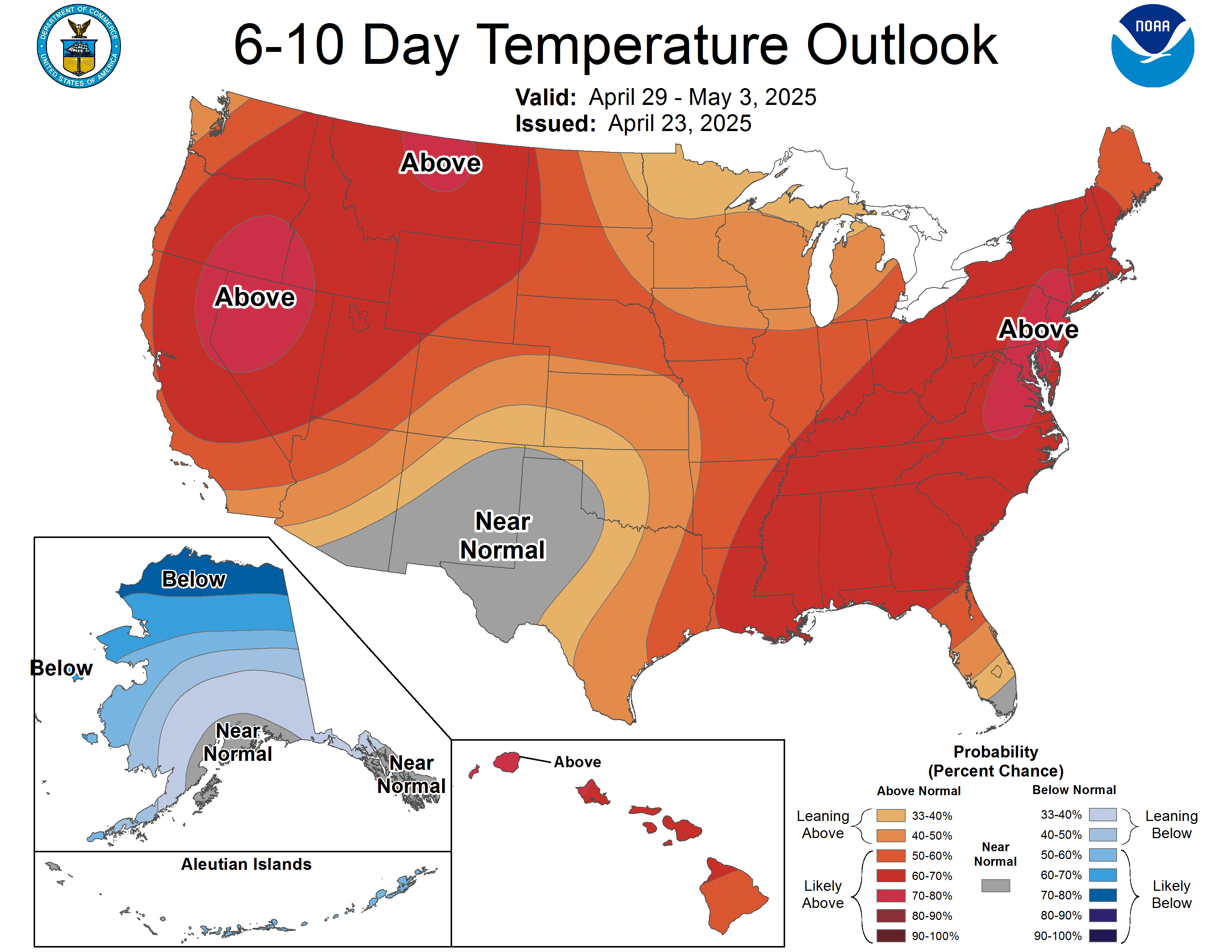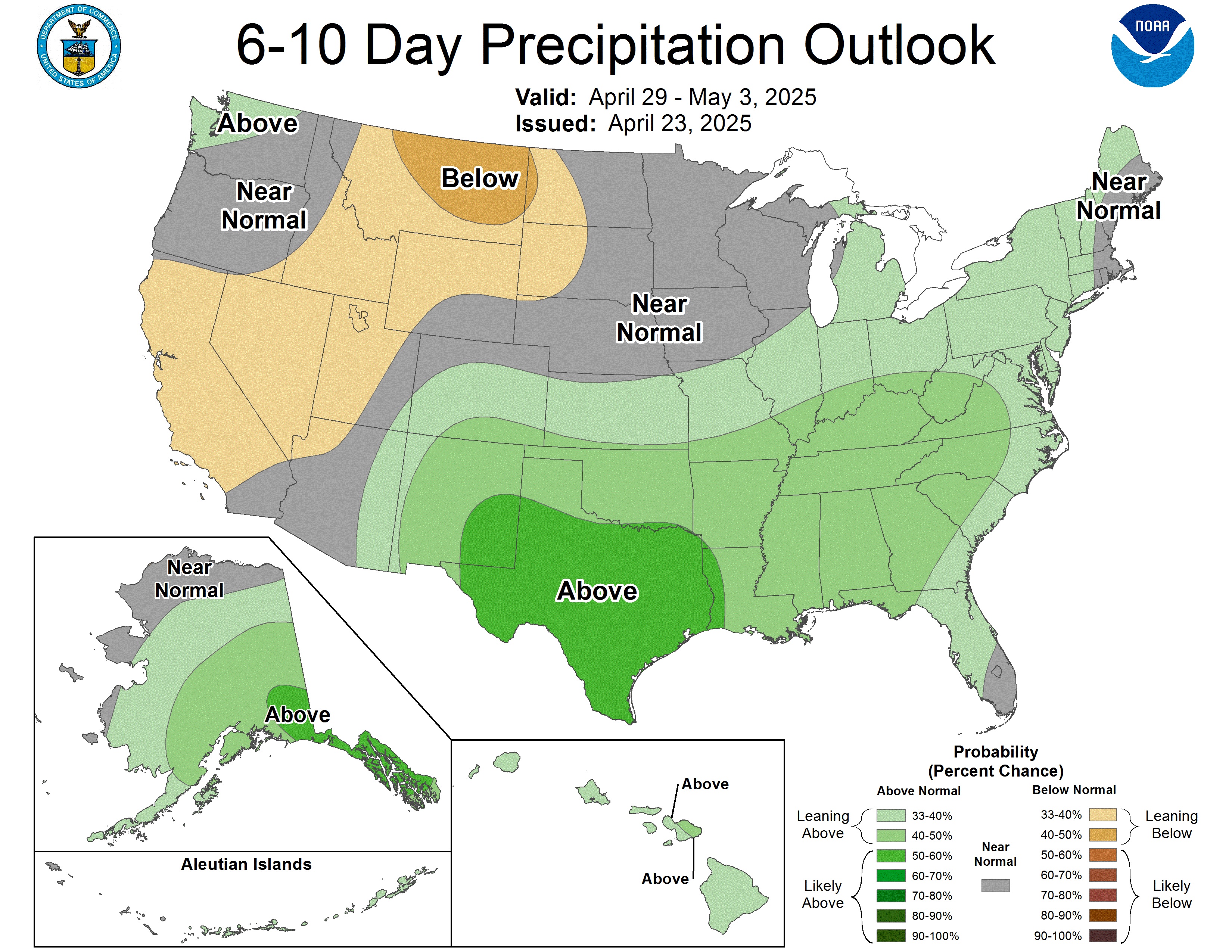 National Short Term Outlook
Mild December pattern in the Heartland today and Thursday, cooler on the East Coast but warming up late week.
Rain and mountain snow arrives in the Southwest tomorrow; Elevated Fire Weather Risk continues in Southern California today; rounds of showers and mountain snow continue in the Northwest.
Light snowfall across the interior Northeast today; Air Stagnation Advisories continue in the northern Intermountain Region this morning.
The large dome of high pressure that called the Northwest and Plains "home" the last several days will begin to push east today. Wednesday is another abnormally mild December day from Mississippi Valley to California. The warmest temperatures versus normal are forecast to transpire in the northern and central Plains where high temps soar 20 to 30 degrees above normal. Meanwhile, much of the East Coast is in store for one more seasonally cool day. Florida in particular sees the most anomalously cold temps today with record breaking low temps possible this morning. There are also numerous Freeze Warnings and Frost Advisories across much of the Florida Panhandle this morning. As the aforementioned area of high pressure slides east on Thursday, so will the expansive area of above normal temperatures, eventually reaching the East Coast by Thursday. Highs should reach the 60s in parts of the mid-Mississippi and Ohio Valleys on Thursday with 70s across the South-Central U.S.
The reason the upper level high pressure heads east the second half of the week is due to a series of upper level troughs tracking into the West. The first one to highlight is an upper-level low moving into northwestern Mexico and the Southwestern U. S. tonight. This system will produce rain over parts of the drought-stricken Southwest, including some mountain snow over the Southern Rockies on Thursday. Precipitation should break out across the southern Plains late Thursday into early Friday. In addition, blustery Santa Ana winds are forecast to stick around another day in Southern California. The combination of gusty winds and low humidity makes fire weather an ongoing issue for the region. As a result, Red Flag Warnings have been issued across parts of Southern California as well as an Elevated Risk for fire weather from the Storm Prediction Center. Farther north, the first of two upper level disturbances is set to generate spotty rain and snow showers over the Northwest and northern Rockies today. The second disturbance comes ashore in the Pacific Northwest late in the day Thursday bringing another round of showers and light mountain snow accumulations to Oregon and northern California.
Elsewhere, a potent upper level feature is spurring snow showers over the interior Northeast this morning. Several inches of snow are possible downwind of Lake Ontario and the higher elevations of the northern Appalachians. Some light snow may make it as far south as the Poconos and Lower Hudson Valley this morning. In the Northwest, Air Stagnation Advisories remain in effect this morning but relief should be on the way thanks to the first previously mentioned upper level disturbance approaching from the west.
Mullinax
---
---
News that Impacts You
---
---
---
A show that highlights organizations and individuals doing wonderful things for those in need or their community.