Monday December 7- Morning Weather – The Bill and Kali Show Schedule and Latest Shows
NWS – Weather for the Chicago and Michiana Area
---
Forecast
Monday starts out mostly cloudy with a 40% chance of flurries and wintery mix with a high of 40 on Tuesday Partly sunny with a high of 41. Wednesday through Thursday looks good with highs in the upper 40s and sunny, upto Friday when a change of precipitation returns.
Monday A chance of rain and snow before 4pm, then a chance of sprinkles between 4pm and 5pm. Mostly cloudy, with a high near 40. North wind around 5 mph becoming calm. Chance of precipitation is 40%.
Monday Night Partly cloudy, with a low around 31. North wind around 5 mph becoming west after midnight.
Tuesday Partly sunny, with a high near 41. West southwest wind 5 to 15 mph.
Tuesday Night Mostly cloudy, with a low around 34. West southwest wind around 10 mph, with gusts as high as 15 mph.
Wednesday Sunny, with a high near 51.
Wednesday Night Mostly clear, with a low around 35.
Thursday Mostly sunny, with a high near 47.
Thursday Night Mostly cloudy, with a low around 39.
Friday A chance of rain, mainly after noon. Mostly cloudy, with a high near 51.
Friday Night Rain likely. Mostly cloudy, with a low around 41.
Saturday A chance of rain. Mostly cloudy, with a high near 48.
Saturday Night A slight chance of rain and snow. Mostly cloudy, with a low around 31.
Sunday A slight chance of snow. Mostly cloudy, with a high near 37.
---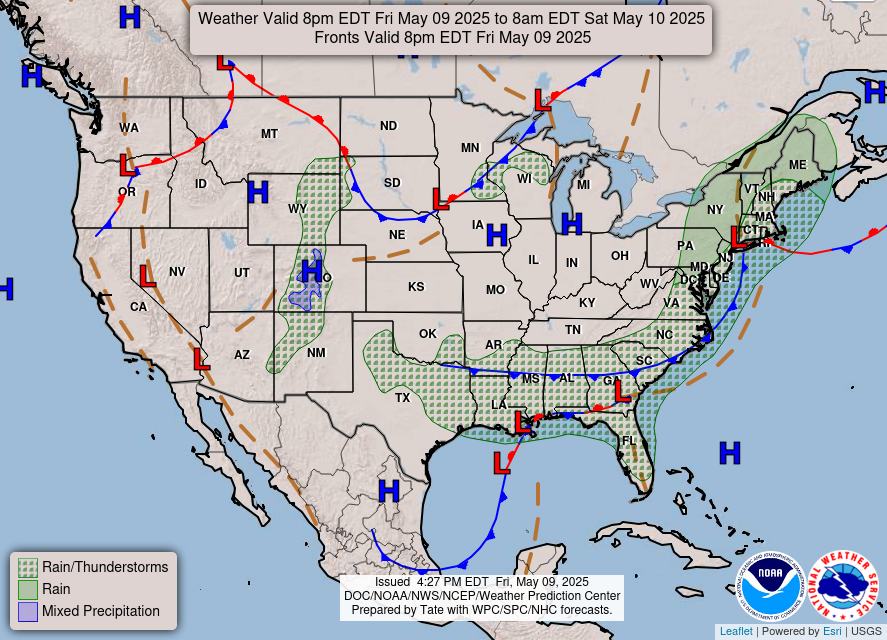 National Short Term Outlook
Wet start to the week in the Southeast, light snow in parts of the Mid-Atlantic.
Critical Fire Weather risk in Southern California, Air Stagnation Advisories in the Northwest.
Mild and dry from the Plains to California, chilly along the East Coast.
A potent upper level trough is forcing an area of low pressure to develop off the Southeast coast this morning. This quick moving storm system is making for a damp start to the week from the Carolinas to Florida. A little farther north, precipitation looks to fall in the form of snow from the southern Appalachians to southern Virginia. Light accumulations of a coating to one inch will be the most commonly observed snowfall totals in these areas. Look for conditions to dry out across the Southeast and southern Mid-Atlantic by late afternoon as high pressure builds from the west build in overhead on Tuesday.
In the West, mostly dry conditions continue as an expansive area of high pressure stretches from the Northwest to the Upper Midwest. Meanwhile, a deepening upper level low off the Southern California coast late Monday is causing a surface low pressure system to form, thus tightening the pressure gradient over the region and fostering an increasingly windy environment over the region. This results in yet another favorable setup for fire weather in Southern California where a Critical Risk and Red Flag Warnings are in effect. Fire weather conditions also extend north up the California coast and into the Sacramento Valley where Red Flag Warnings are also in place. In addition, High Surf Warnings were posted for portions of southern and central California coasts through Tuesday. Farther north, Air Stagnation Advisories remain in effect for much of the interior Northwest through Tuesday as upper-level ridging and high pressure at the surface lead to poor air quality.
Temperature-wise, an abnormally mild pattern has set up shop from the Plains to the West Coast. The warmest temperatures versus normal are forecast to occur Tuesday in the northern Plains where daily anomalies of 20 to 25 degrees above normal are expected. The one region that receives precipitation the first half of the week is the Pacific Northwest where a pair of fronts track across the region. East of the Mississippi River, a more winter-like temperature regime is entrenched along the East Coast. Highs will struggle to get out of the 30s in parts of the southern Mid-Atlantic and Tennessee Valley today. By Tuesday morning, some parts of the Deep South will see temperatures dip below well freezing. Temperatures moderate to more seasonal levels up and down the East Coast on Wednesday with the lone exception being Florida where below normal temperatures are likely to continue.
Mullinax
---
---
News that Impacts You
---
---
---
A show that highlights organizations and individuals doing wonderful things for those in need or their community.