Friday December 4- Morning Weather – The Bill and Kali Show Schedule and Latest Shows
NWS – Weather for the Chicago and Michiana Area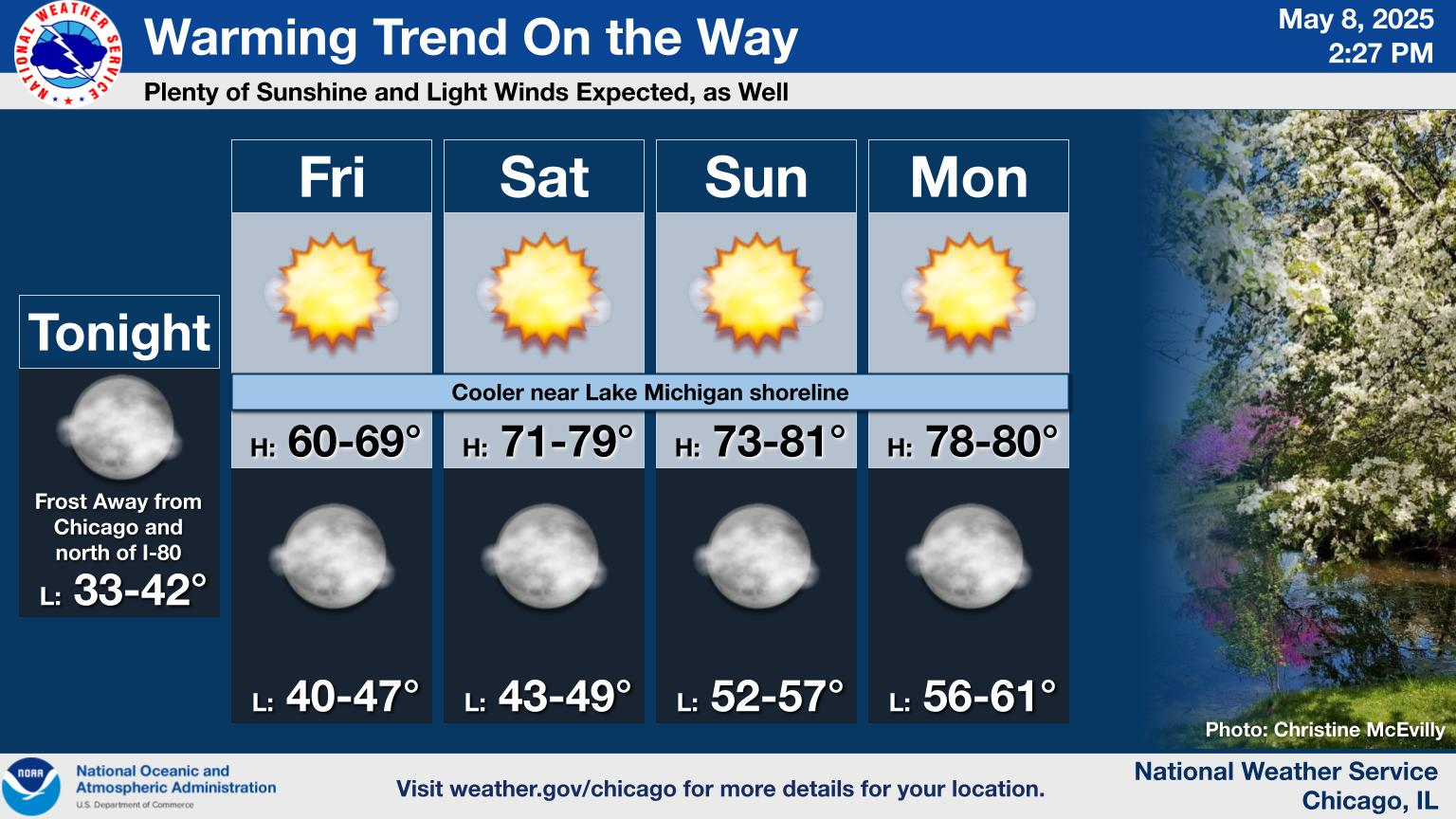 ---
Forecast
Today sunny with a high of 43. The Weekend Saturday sunny with a high of 40. Sunday chance of snow in the morning, partly sunny with a high of 40. The workweek starts out nice and sunny with highs in the lower 40s .
Today Mostly sunny, with a high near 43. West southwest wind 10 to 15 mph becoming north in the afternoon. Winds could gust as high as 25 mph.
Tonight Mostly cloudy, with a low around 33. North wind around 15 mph, with gusts as high as 25 mph.
Saturday Partly sunny, with a high near 40. North northwest wind 5 to 10 mph.
Saturday Night Partly cloudy, with a low around 30. North wind around 5 mph becoming calm in the evening.
Sunday A slight chance of flurries after 7am. Partly sunny, with a high near 40. Calm wind becoming northwest around 5 mph.
Sunday Night A slight chance of flurries before 1am. Partly cloudy, with a low around 29.
Monday Mostly sunny, with a high near 41.
Monday Night Partly cloudy, with a low around 30.
Tuesday Mostly sunny, with a high near 43.
Tuesday Night Mostly cloudy, with a low around 33.
Wednesday Mostly sunny, with a high near 47.
Wednesday Night Mostly clear, with a low around 34.
Thursday Mostly sunny, with a high near 47.
---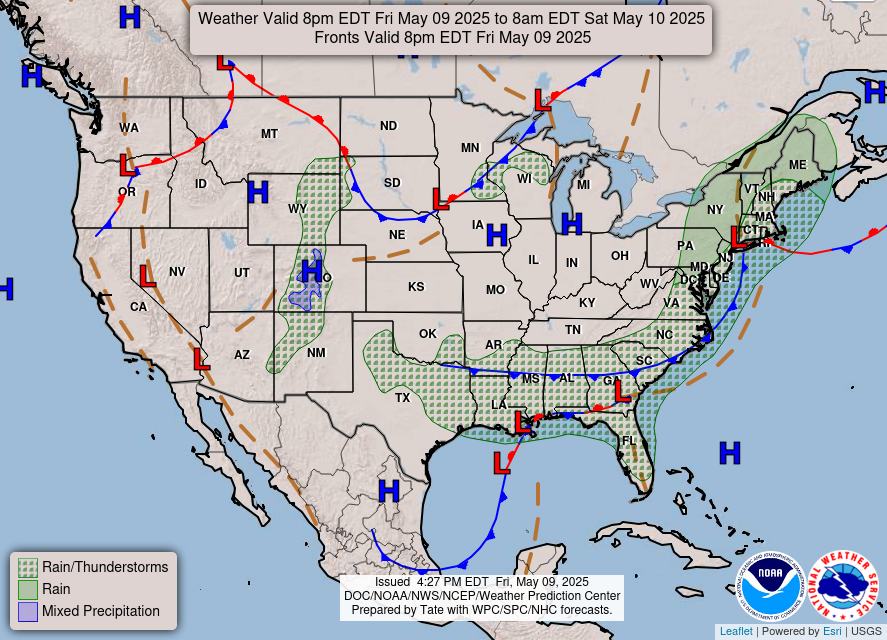 National Short Term Outlook
A rapidly-intensifying Nor'easter to produce gusty winds and heavy rain from the Mid-Atlantic to New England this weekend; heavy snow possible across portions of New England.
Critical Fire Weather risk along the Coastal Ranges of southern California today, Air Stagnation Advisories in the Northwest.
The headlining weather system of the weekend is a storm developing in the Southeast that will evolve into an intense Nor'easter on Saturday. Showers and thunderstorms will blossom from the Deep South to the southern Appalachians today while periods of rain take shape from the northern Mid-Atlantic to coastal New England the second half of the day. The storm is forecast to strengthen as it tracks across the Mid-Atlantic and reaches the DelMarVa coast Saturday morning. As rain comes to an end in the Carolinas and Mid-Atlantic Saturday morning, periods of heavy rain are likely to continue throughout coastal New England with the heaviest totals anticipated from the Massachusetts Capes to Downeast Maine. In addition to the rainfall, winds will pick up with the strongest winds felt along the New England coast where high surf, coastal flooding, and beach erosion could is possible.
Meanwhile on the storm's northwest flank, a cold front is ushering in a reinforcing shot of cold air to the interior Northeast. As the storm tracks south of New England, snow levels will crash and a cold conveyor belt of heavy snow sets ups over the higher elevations New England. Winter Storm Watches have been posted from the Berkshires on north and east through southern Vermont, across most of New Hampshire, and into interior portions of Maine. Snowfall amounts of 6 to 12 inches are possible in these areas with locally higher amounts possible. Depending upon the exact track of the storm, it is still quite possible heavy snowfall to develop over coastal areas of New England on the backside of the storm Saturday afternoon and evening. As per usual with a Nor'easter, there will be a sharp gradient between areas that see heavy snowfall and areas that see rain closer to the coast. Where snow does fall, it could be heavy enough that combined with brisk winds may lead to isolated tree damage, power outages, and treacherous travel conditions. Look for conditions to gradually improve as the storm gradually weakens east of Maine on Sunday.
Elsewhere, weather throughout the western United States today and into Saturday will remain fairly quiet thanks to an impressive and expansive area of high pressure. The lone exception is southern California where, thanks to the large area of high pressure located over the Intermountain West, gusty offshore winds look to continue across the area today. These winds combined with dry air will allow for any wildfires to spread rapidly. The Storm Prediction Center has placed a Critical Fire Weather area from the San Diego County Mountains on north to the higher elevations of eastern Ventura and western Los Angeles counties. Elevated Fire Weather conditions are likely to persist in these areas on Saturday as well. Red Flag Warnings and Wind Advisories have also been issued for much of southern California. Much of the Northwest is under Air Stagnation Advisories through the weekend due to the large dome of high pressure overhead and poor air quality at low levels.
Mullinax
---
News that Impacts You
---
---
---
A show that highlights organizations and individuals doing wonderful things for those in need or their community.